Even road traffic accidents which are seemingly minor can cause whiplash injuries, and whiplash can occur during an accident when you are travelling at as little as 10km/hour. Sprained ligaments in the neck will cause pain which may extend down one or both arms, but a chiropractor or physiotherapist from Central Chiropractic Clinic can provide effective pain relief for whiplash in Coventry – often with cold or Low Level Laser Therapy.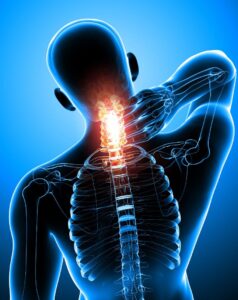 More severe cases of whiplash can cause pain which may last for months, and this pain can be more persistent – or sometimes constant. If you are suffering from more severe pain, it may indicate that the injury has caused more extensive damage such as a slipped disc or trapped nerves. Cold or Low Level Laser Therapy is a proven way to gain effective pain relief, reduce inflammation and aid healing, and is available at our clinic in Coventry.
With a range of options available at our clinic for whiplash treatment in Warwickshire, you can trust our team of specialists to provide the relief that you need from whiplash. Beginning with a consultation to assess your condition, we will be able to find the perfect treatment for your individual injury, and will tailor a treatment programme to suit your symptoms and the severity of your injury.
Contact our Warwickshire-based team today to book an appointment at Central Chiropractic Clinic.  We will be happy to answer any questions that you might have, so please don't hesitate to get in touch if you would like to learn more about our whiplash treatments.
Monday – Friday: 7:30am – 7pm
Saturday: 8am – 1pm